Seaview 4 is situated in the 2 storey building behind seaview 1. It has its own entrance.
It has a big terrace on the seaside, with a bale-bale,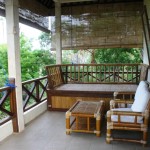 a lounging platform of 1,5 by 2 metres,
great to relax, have a nap or read a book. From here you can have a look at the sea, above the garden.
The terrace also has a bamboo set of a tabel and 2 chairs.

The room has a 4-posted bed with a matrass of 1.80 x 2.00 with a musquito-net. A large closet gives enough space to store your luggage. The size of Seaview 4 is 6×5 m, it has a small fridge . The room has air-conditioning and a ceiling-fan.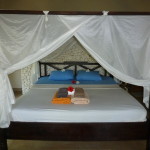 The room is cleaned every day, we change the bedding every 3 or 4 days.
The bathroom is en-suite, spacious and airy.
The unique architecture allows the sea breeze and the sunlight to enter the bathroom through the partially open roof. The sound of singing birds and some morning rays sparkling through the shower drops are a great way to start your day with a smile!
The water isn't heated, but you won't need hot water anyway since the temperature on Bali is 25oc year-round and tap water seldom gets below that.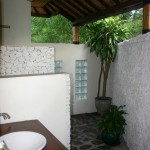 Bathrooms are equipped with western flushing toilets, shower, mirror, large sink and electric-shaving outlet.
We provide towels for the bathroom. They are changed every 3 days.